Some time back I connected with Joe from SleppSolutions.
Joe invented something that I think is pretty awesome.
This device is called Free Hand Fitness and Joe invented it so that folks with arthritis and/or hand and wrist issues could still get the physical benefits of doing push-ups, rows, planks and more! Joe isn't personally affected by limb-difference, but saw that it could be useful for those of us who are, which is awesome. You can see Shaholly using it in the video above! The device itself is really well made using high quality materials; this thing is not going to break and looks like it'll last forever!
Personally, I tried using the device many times and Joe went out of his way to try and get it to work for me, but I found that the vast difference in bicep circumference between my left and right arms was just too much to overcome. So, totally not the fault of the device itself. My left arm ends very shortly after the elbow, so I just don't have much to work with there; less than Shaholly (above). I believe the device will work perfectly, though, for anybody whose forearms are similar in size.
One of the challenges we have as adaptive athletes is maintaining some semblance of symmetry when we workout our upper-body. Free Hand Fitness helps tremendously in this area! Definitely check it out and see if you think it might work for you!
Joe has been kind enough to extend a discount to all my readers, too! If you enter LOH (in all-caps) at checkout, you'll get $15 off!
Head over to Free Hand Fitness, take a look around and see if the device might help you meet your fitness goals today!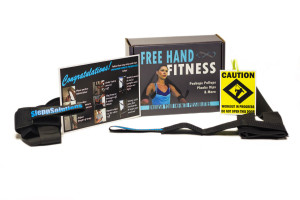 What are your biggest fitness challenges?