Yesterday my friend Ryan sent me this text:
He was on the verge of unfriending me in real life because I hadn't yet seen Mad Max: Fury Road.
Well, last night I saw it and…holy crap.
First of all, it's a gorgeous piece of art. It's not for everyone, for sure, but I spent most of the time in the theater thinking, "How did they do that??" A solid story, interesting characters, amazing scenery and…freaking car chases. Except that doesn't do justice to what actually happened for two hours. I texted my brother-in-law afterwards and said, "I wish I lived near a desert so I could drive recklessly through it!"
The reason Ryan wanted me to see it so badly, though, was because of Imperator Furiosa.
Oh, Furiosa.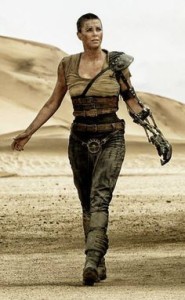 We don't know much about Furiosa, but we do know that she is strong, smart and compassionate. Her mission, unbeknownst to the evil Immortan Joe, is to transport his captive wives to freedom, which she believes will find them at The Green, the place she was born. The story follows this perilous journey, filled with carnage and careful character development.
What struck me, though, as I'm sure it did nearly every amputee who's seen it, is exactly what my friend Ryan was hoping I'd notice: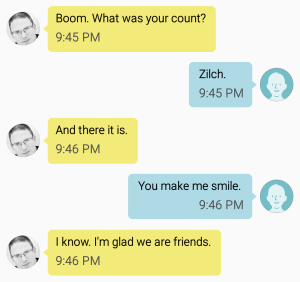 Furiosa's difference was not a plot point.
In fact, they never addressed her arm throughout the entirety of the movie.
Not once.
Not once while she was driving. Or fighting. Or jumping between vehicles. Or loading weapons. Or shooting said weapons.
And they could have.
We don't know why she has one hand. We don't know if she was born that way or if she lost it somehow. We don't know how her steam punk prosthetic works or where she got it, though we know she doesn't need it to kick someone's ass.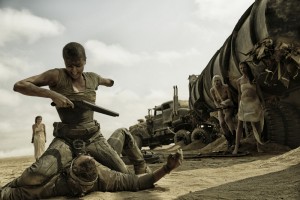 All we know is that she has one hand and…it doesn't matter.
I've actually read that she and George Miller actually do know the back story and, according to them, it's amazing. So, maybe one day we'll find out and that'll be awesome.
But for now, I'm happy to watch a movie that incorporates characters with many differences and doesn't use them as a device, but rather, allows the people with them to be just that…people.
More broadly, in Mad Max: Fury Road we see that difference doesn't make a person good or bad. We see characters with differences who are evil and others who are heroes. And even others who just are. I could be off here, but I feel like that's a rarity in the movies these days. I appreciate the efforts the filmmakers put forth to incorporate actors with differences and not make a big deal about it.
Some have complained that they cast Charlize Theron in the Furiosa role rather than an actual amputee. I understand the sentiment, but it doesn't bother me. For one, they spent $150 million dollars on the movie, so it makes sense they'd want a well-known actress in the lead role. Second, she's an amazing actress. My opinion is, whatever the arena, no amputee should expect or want to get the role/job/roster spot/etc. simply because they're an amputee. While we should never be discounted because of our difference, I also think the best person for the job should get it. In this case, Theron got it and she deserves any award she gets for her performance.
Ultimately, if you can handle intense, violent action movies that feature limb-different heroines, Mad Max: Fury Road is for you.
Did you see the movie? What did you think?