First of all, let's just get this out of the way:
Yes, I got a tattoo on my one wrist.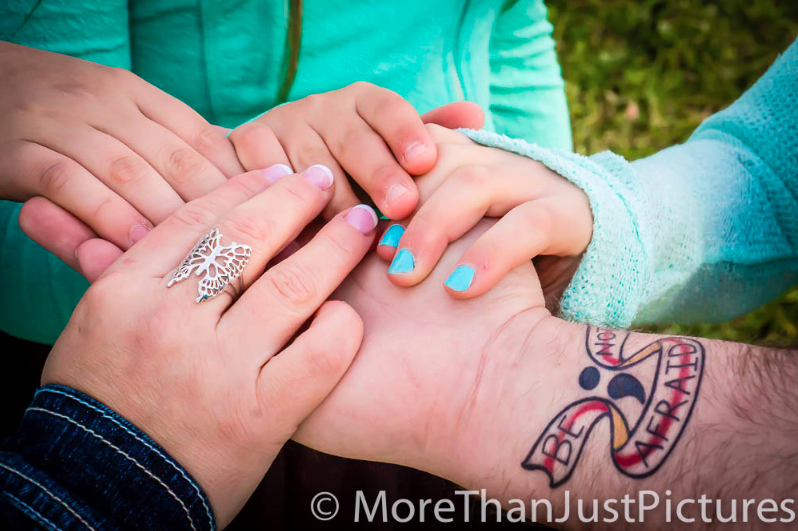 I'm not gonna lie, I was a little nervous about it. I mean, you don't plan on things going wrong, but…what if? It crossed my mind. Thankfully my son lightened the mood before I left the house to get it by asking very innocently, "Which wrist are you gonna get it on, dad? (pause) Oh, wait…nevermind." His sheepish grin afterward made me laugh and relax.
My friend Alex tattooed me at Steve's here in Madison and he did an amazing job. It was my first, so it was cool to have a friend do it; someone who understood the significance of it. He told me he'd take it easy on me and for the most part the experience went off without a hitch. I determined beforehand not to look until he was finished, but a little ways in I couldn't resist a peek. It was my only mistake. I looked over, hopeful it was nearing completion, and it…well…wasn't.
I didn't look again until he was finished.
My daughter asked if I cried and I told her, "Not from my eyes." I did sweat. A lot. But I made it through without any breaks and with only two deep breaths to refocus. If you've never gotten a tattoo, the sensation is hard to explain. It's painful, for sure, but there's something that feels almost sacred when it's happening. Well, that and like a cat clawing at a sunburn. With broken, jagged claws. It's beautiful.
So, why did I get a tattoo and why did I get this tattoo?
This goes back a ways. There were many times in my life that I wanted something that I could have gotten and just didn't. I always wanted some Chuck Taylors in elementary school and just never did. I wanted to get my ear pierced for a long time and never did. I've wanted a tattoo for a long time…so this time, I did.
And this tattoo is for me. Even though I'm sure it will connect with many, many people and it will start amazing and intense conversations, ultimately, I put it in a place on my body where I can hold it up and look at it and read it myself. For me.
In November of 2014 I lost my dad to suicide. It's still hard to fathom. So, my tattoo incorporates two very meaningful elements for me. If you've not heard of Project Semicolon, the idea behind it is that a semicolon represents the opportunity the author had to end the sentence with a period, but they chose to continue on instead. The idea is that we all have that choice with the story of our lives. Will we end it or will we continue on? So, the semicolon is to honor my dad by bringing awareness to the tragedy of suicide and to encourage those also struggling. A kind of we-re-all-in-this-together thing.
The other element is the phrase "Be Not Afraid." Not a specific Bible verse, but the concept is pervasive throughout scripture, for sure. I struggle with fear and anxiety quite a bit. I've gotten better than I used to be, thanks to an amazing therapist and fantastic friends, but it's still something that gets in my way. It can be paralyzing. And I don't like it.
So, the theory is, when I'm feeling afraid, hopeless, down…I can look at my wrist and be encouraged.
Be not afraid, Ryan. Keep going.
Here's what's kind of funny about this. My dad grew-up the son of a WWII hero turned small town cop. I remember him telling me in no uncertain terms that if I grew my hair out or got an earring…it would be a problem. So, I didn't. I didn't resent him for it or anything and we had our moments, like when I dyed my hair purple, but it was never that big of a deal. Flash forward a good number of years and I'm visiting my dad as an adult when I notice something on his shoulder. It was a big ol' cross! "Dad, when did you get a tattoo??" I asked incredulously. "Had a dream about it," he told me. "You had a dream about it?" I said. "Yep. Had a dream about it, so I went in and picked it out and had 'em put it on me," he said.
And that's really all I remember about how my dad's tattoo came to be.
I have some more ideas for myself and I'm looking forward to having them done.
One incorporates a cross on my shoulder.
Do you have a tattoo? Or tattoos? What was your experience like? Why did you get yours and what do they mean?