Eric Edholm's recent blurb about Jason Pierre-Paul's new football glove is just another example of why we need to keep having conversations about how words have power.
If you're not a sports fan, Pierre-Paul is a defensive player for the New York Giants and over the summer he had an unfortunate accident with some fireworks resulting in the loss of his right index finger and damage to his thumb and the other fingers. Nobody was sure if he would recover well enough to even be able to play again, but the Giants recently cleared him to play and he will be wearing this modified glove on Sunday.
One of the gloves Jason Pierre-Paul is trying out. pic.twitter.com/dqKyAjOp8l

— NFL on ESPN (@ESPNNFL) November 5, 2015
Now, let me be clear: I'm not personally offended by Edholm's take. I can appreciate his use of the word "handiwork" and imagine he rightly smirked while writing it. He can say whatever he wants (and clearly has), but he's also subject to critique and in this case, I think it's warranted.
Edholm tells us how "creepy-looking" the glove is and that he'd buy one "for it's sheer weirdness." He says he can't stop staring at it. "And if he needs this strange-looking glove to thrive, well then so be it," he says, dismissively. He also refers to another player who was missing digits and wore a glove "on his good hand."
Edholm clearly has no qualms with what he wrote, basically calling anybody who has a problem with it an idiot.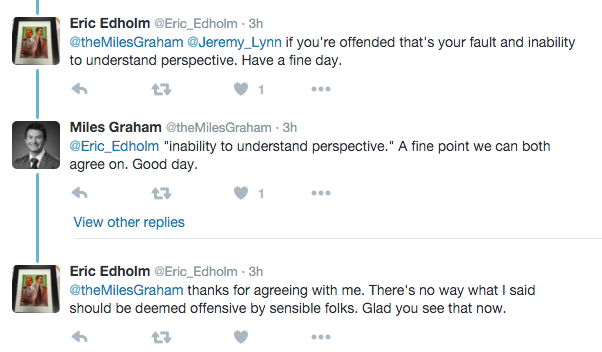 And this is exactly the problem, as I see it.
I know countless people, including many friends, who use modified equipment because of how their body is shaped. Many of them were born that way. Others lost parts of their bodies in accidents or war. Do they look different? Than most people, absolutely. And as we all know, Different Is Awesome! So, would I ever describe them or the tools they use in their lives as creepy or strange-looking? Would I make jokes at their expense? Nope and nope.
The fact that Edholm finds this acceptable and is himself annoyed and offended that anyone would take umbrage with the words he used is precisely why we need to continue having conversations about how to treat others that are different than us with respect. It's not about being "offended by everything.". It's about teaching people that the way we talk about others can and should be done respectfully.
And yes, Pierre-Paul did it to himself. But really, do you think he was trying to blow his fingers off? It was an accident. And as stupid as anyone might think it was for a millionaire athlete to be setting off fireworks, that doesn't mean he deserves ridicule and disrespect. It doesn't mean he automatically becomes fair game to be the butt of bad jokes. "But Ryan, he's a strong, grown man. A football player, no less! He can take it," you might be saying. I don't think it's our place to make that judgement. In fact, I have to think he felt more embarrassment and fear of this new life he has now to lead than any of us may ever have to face.
My point here is not to shame Edholm. It's to try and illuminate the truth that our word choices matter, even if we think they aren't a big deal. I've heard from enough parents of limb-different kids to know that other kids at school or on the playground use these exact words – creepy, weird, strange – to describe their sons and daughters.
As adults, we need to set a better example.
What are your thoughts? Do you think we need to think more carefully about the words we use? Or do you think we need to have thicker skin?