"We concede the precarious position of living a difficult life and affirming our bodies as whole, good and beautiful." – Nancy Eiesland in The Disabled God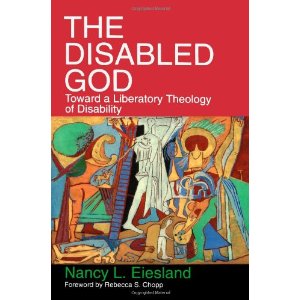 The Disabled God by Nancy Eiesland is a difficult read.
But, it's worth it.
In it, Eiesland "draws on the themes and advances of the disability rights movement to identify people with disabilities as members of a socially disadvantaged minority group rather than as individuals who need to adjust.  In doing so, she highlights the hidden history of people with disabilities in the church and society and points the way to a fuller version of humanity and justice."
I'll tell you right now, my thoughts on this will be nowhere near as analytical or intellectual as Eiesland's.  You're welcome.
Eiesland's work really got me thinking, though.  She spends the first portion of the book detailing the Disability Rights movement.  And I'm so glad she did.  Honestly, "disability rights" is a somewhat alien idea to me.  Unnecessary almost.  Which is kind of the point, right?  Now it seems like a non-issue (though I realize it still is) precisely because courageous people fought/fight for them.  I've never encountered discrimination in my own life (that I know about) and I have these people to thank.  It was eye-opening to hear of the discrimination that was and the advances that have been made.
That leads me to something I've had a hard time wrapping my head around.  It's the idea of realizing the necessity of being identified as part of a minority group while demanding to be treated as part of the majority.  It's hard for me because I feel like saying, "You can't have it both ways."  On the one hand saying, "You must recognize that I am different," and then on the other (so to speak) saying, "But you mustn't treat me that way."  I can understand why those without obvious physical disabilities might be confused on how to treat me.  And while it's a bit confusing to me, I see the importance of it.  Especially, say, 30 years ago.  Drastic changes needed to be made.  By identifying disabled people as a minority group and fighting for their rights a generation ago, the need for such a pronounced designation has been significantly reduced.
The main reason I got this book was because I wanted to hear Eiesland's reframing of God as "disabled."  She did not disappoint.  Her brief history of the hypocrisy of the church was interesting, also.  If you look at all the Biblical references to those with "disabilities," you mostly see one of two explanations: Either he is cursed for something he or his parents did, or he is "that way" to show the miraculous power of God.  There's very little middle ground.  Either I'm being punished or I'm a miracle.  Eiesland suggests that most disabled people don't fall into either of these categories.  They are simply people God created and loves and has enabled to bring Himself glory through their "normal" lives.  I especially liked this quote: "For people with disabilities who have grasped divine healing as the only liberatory image the traditional church has offered, relinquishing belief in an all-powerful God who could heal, if He would, is painful!  Yet, who is this god whose attention we cannot get, whose inability to respond to our pain causes still more pain?  This god is surely not Emmanuel – God for us."
Now, does God heal?  I believe so, yes.  Always?  Obviously not.  It's logical then to believe that perfect health should not be equated with God's favor.  A person can be sick or hurt or different and still be exactly how God wants them to be.  In fact, I've always been told that I'll have a "perfect body" when I get to Heaven.  Really?  What does that even mean?  Is that according to what I perceive to be perfect?  Will I look like George Clooney?  Yes, he's my benchmark.  The truth of the matter is, even Jesus's "disabled" body remained after His resurrection.  The holes were still there.  I believe there is perfection in our imperfection.  This applies to the Body of Christ, the Church, as well.  We are broken, but He loves us and embraces us as whole.
These are only a few of the ideas The Disabled God sparked within me.  Like I said, it's a very heady book, but an important one if you're up to the challenge.  Eiesland does a solid job of taking her research and analysis and making it accessible to the reader.
Get your copy of The Disabled God: Toward a Liberatory Theology of Disability
.
Also, don't forget to "Like" LOH on Facebook and follow on Twitter for special content!