As of today, I've been married to my wife for 11 years.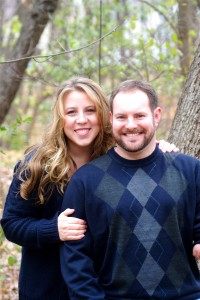 My wife is beautiful. Always has been. She's also hilarious. A killer combo. She's an incredible mother. She loves Jesus with all her heart. And she loves and cares for those around her more than anyone I know.
To say I married above my means is an understatement of magnificent proportions.
The last year or so has been a fun and interesting time for us. As I've come to realize my unique position as a limb-different person, Julie has been right by my side. She's been so supportive and encouraging. There's nobody I'd rather do all of this with than her!
It's funny to think back to our wedding day and remember our vows.  "I'll do everything in our marriage with one hand.  That one is a fact."  I was light-hearted about my arm even then!
I remember after I proposed my dad saying something like, "I always wondered who would end up with you." I'm going to have him unpack that for me someday, but I'll bet every parent of a limb-different child has the same thought. Who will choose my child? Not in a bad way. Just in a "Who's going to see past the difference and love the whole person?" way. Which is why I also said in my vows, "Thank you for loving me the way that I am, inside and out, and I want to love you the same way…forever."
Well, parents, I'm living proof that a one-armed guy can end up with a beautiful, funny, talented, compassionate, intelligent, wonderful woman.
That said, I can't guarantee everyone will be as lucky as me.
Happy anniversary, Jules.
(I thought I'd share our montage that we played at our wedding. It makes it look like we got married 40 years ago! Ahh, technology.)